Resultados: de producto(s) -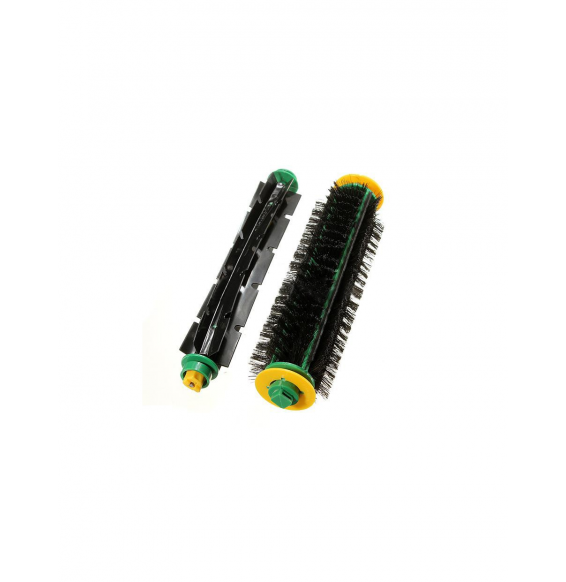  
Central brushes Roomba series 500
Te quedan 35€ para el envío gratis
Pack of Central brushes compatible with Roomba series 500.
The kit includes: bristled brush and rubber brush.
If you have a Roomba 5xx series and Central brushes that it uses are colored green and yellow, this will be the replacement you need to increase your cleaning power again.
Each of the two brushes has a function and its unity is that they catch any dirt and residue that is in its path.
Features of Central brushes Roomba 500 series: high-quality Material, same duration as spare parts series.
Adapts perfectly to your Roomba 500 series.
Change frequency: 6 months (Please make several cleanings during this time to lengthen its useful life).
Data sheet
Compatible models

505, 521, 510, 530, 531, 532, 534, 535, 545, 550, 552, 555, 560, 562, 564, 570, 571, 575, 580, 581,585, 595, 599, etc.
Brosses

Produit parfait
Positiv

Sehr zufrieden mit allem
Muy bien

2017-01-10
B. Sancho Lobato
Llegó rápido y en perfecto estado, gracias!
rapidez

Tienen muy buena gama
Eu encontrei o que eu precisava

rápido e sem problemas
Molto bene

Buona gamma e prodotto
rapidità

Comprerò di nuovo
schnell

Qualitätsprodukt
OK

2020-01-15
L. NaviaOsorio
Perfecto
Excellente gamme

Merci pour le service
rapidement

Produit de qualité
rapidamente

Vou repetir
Nessun problema

perfetto
speed

Came quickly
perfect

quality product
Kein Problem

Perfekt
rapidez

2017-11-28
F. Sola Legaria
Producto de calidad
Service

Ich komme schnell an
Sans problème

Parfait
Não tem problema

Perfeito
No problem

Perfect
Bom

Recebi o que comprei em pouco tempo
wie erwartet

Ich werde wiederholen
Sin problema

2019-05-24
D. Aduna Untoria
Perfecto