Resultados: de producto(s) -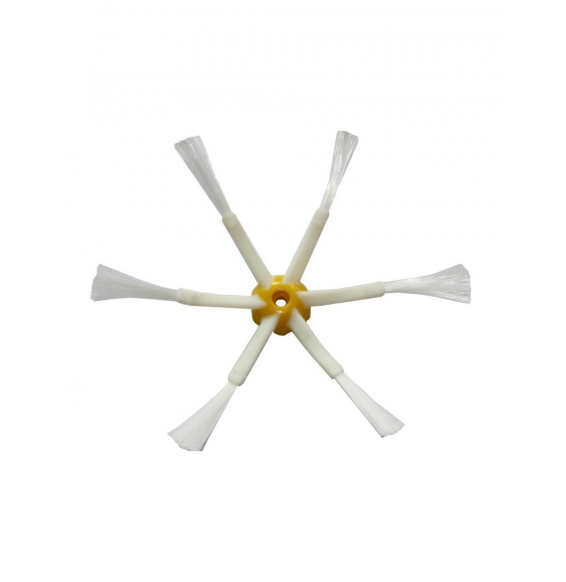  
6 blades - 500 series side brush
Te quedan 35€ para el envío gratis
Side brush with 6 blades compatible with all models of Roomba series 500.
Its main function is the clean corners and parts inaccessible to stay, thanks to its greater number of blades, the result is excellent.
Includes screw for placement.
For single replacement, you will have to remove the screw that holds your current brush and then make a slight outward pressure to remove the old. After that, place the new and replace the screw.
Recommendations it is recommended to clean the brush side before each use to make cleaning more effective.
Features high-quality manufacturing with 6 blades around.
Valid for your Roomba series 500.
Change frequency: every 3 months.
Data sheet
Compatible models

505, 521, 510, 530, 531, 532, 534, 535, 545, 550, 552, 555, 560, 562, 564, 570, 571, 575, 580, 581,585, 595, 599, etc.
brosse latérale

produit conforme à la commande. Merci
Escova para aspirador romba

Fiquei muito satisfeita com o produto, recomendo. Obrigado mistura!
Ottima alternativa
Sei bracci invece dei tre originali spostano decisamente più polvere. Ma sono anche meno flessibili. Pertanto il motorino finisce per bloccarsi più spesso del normale.
Commande

Parfait
????????

????????
Veramente ottimo materiale

Davvero ottimo materiale
6 blades - 500 series side brush

Very fast delivery, and good price.
Impec !!

Très efficace
Okay,

! bei der 6-Klingen bürste ist nur 1 drin.
No problem

Tout OK
Bom serviço

o artigo parece bom
Grazie
tutto ok
Tutto come previsto

buon prodotto
Danke
Ich werde wiederholen
Je vous remercie
Je vais répéter
Perfecto

2020-01-12
J. Bayona Iturrarte
recibí lo que compre en poco tiempo
Livraison OK

bon délai de livraison
Obrigada
Vou comprar de novo
Thank you
I will repeat
Gracias
2018-01-23
E. Salgueiro Fernández
el artículo parece estar bien
all right

2020-08-15
J. SAENZ MORALES
everything ok
Ich werde wiederholen

Sie haben eine sehr gute Reichweite
Qualidade

Como esperado
Sehr gut

Gute Auswahl und Produkt
Sin problema

producto de calidad