Resultados: de producto(s) -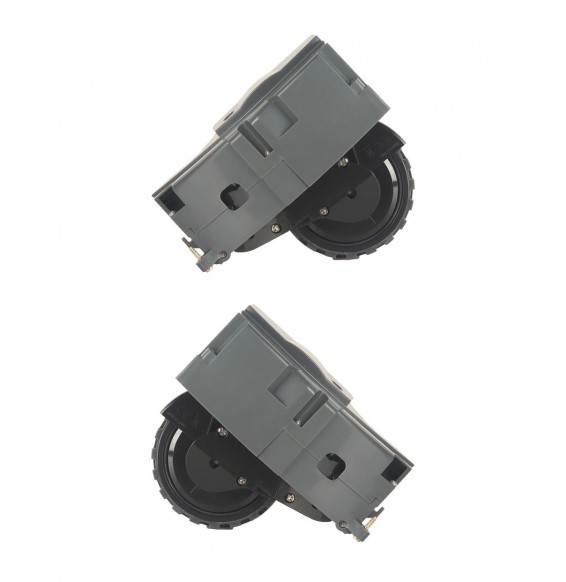  
Left and right - wheel kit Roomba 500, 600 and 700 series
Recibe este producto sin gastos de envío
Left and right wheels Pack for 500, 600 and 700 series Roomba models.
Ideal if your wheels are worn or damaged and need to be replaced.
iRobot original product.
NOTE: the wheels can be blue or gray. In both cases they are original and depends on the supplier's supply.
Ruedas Roomba 600

2021-02-14
C. Señor Olmedo
Producto de calidad y de fácil reposición. Se solucionó la avería que tenía.
ricambi roomba 780 kit ruote

Ottimo ricambio il roomba 780 pare una ferrari.
Roomba pièces détachées

Absolument parfait. Montage en 6 mn pour les deux roues avec moteur. Un jeu d'enfant.
Produit d'origine

2019-12-13
M. NOVION DUCASSOU
Très simple à monter
tutto ok

Come previsto
perfect

good product
alles ok

Perfekt
Service

Perfekt
tout va bien

Parfait
tudo ok

Como esperado
bene

2019-02-10
C. Casino Asensio
Arrivato rapidamente
Bom

Eles têm um alcance muito bom
everything ok

Perfect
Grazie

2017-10-23
J. Labrador Sánchez
tutto ok
Gut

Schnell angekommen
todo ok

2019-12-02
A. navarrete donate
Perfecto
Bien

Arrivé rapidement
rapidez

2020-04-22
M. Hernández Hernández
todo ok
Bom

Chegou rapidamente
Bon service

Ils ont une très bonne gamme
All right

Came quickly
Molto bene

Buona gamma e prodotto
Bien

2019-02-10
A. Padros Bertran
Llegó rápido
as expected

2019-10-17
M. González Pulido
good delivery time
Excellente gamme

le produit est bien